I always wondered why other countries don't play Aussie rules football like we do in Australia. After a bit of recent research and chatting to a few mates who live overseas, it turns out AFL and Aussie rules is really popular in other countries – many even have whole leagues of competition. I thought I'd share what I learnt about where Aussie rules is player overseas here.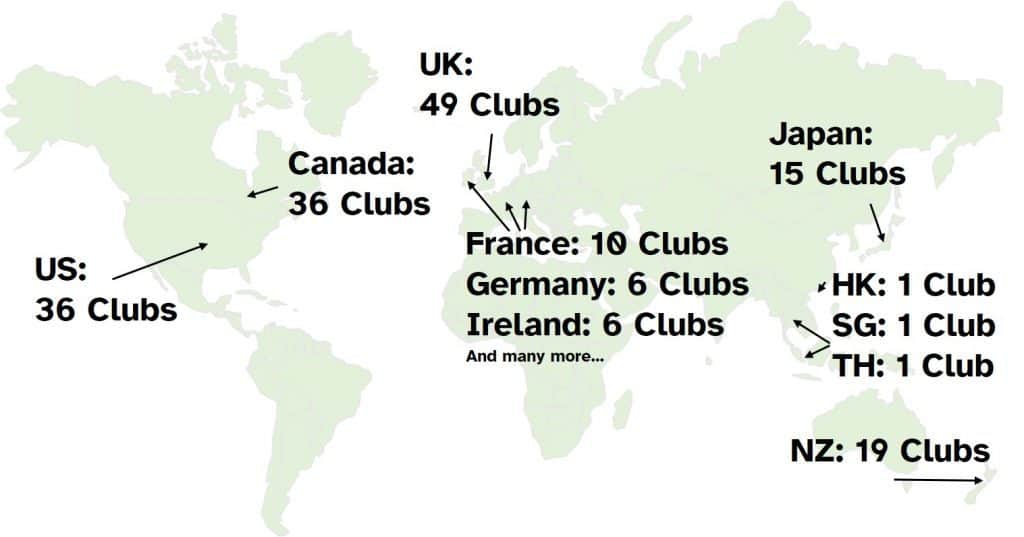 The most popular countries for playing AFL outside Australia are:
New Zealand
United Kingdom
United States
Ireland
France
Papua New Guinea
Netherlands
Japan
This is only a short list of the countries where AFL is played, but these are the biggest. There are dozens of countries where AFL is played. In this guide to international AFL I've tried to keep it to details on the history and how you can get involved if you're in one of the more popular Aussie rules playing countries.
I've included some detail on how much Aussie rules footy is played in each of these regions below:
| Region | How much footy is played |
| --- | --- |
| UK | Competitive league with many clubs available to join. Auskick available for kids. |
| Ireland | Competitive league with quite a few clubs around for adults and kids. |
| Europe | Competitive leagues, particularly in Netherlands and France, with involvement for kids. |
| North America | Extensive competitions as well as a modified rules version of the game to encourage locals to get involved. |
| New Zealand | Four major leagues with over 600 players. |
| Papua New Guinea | An adult and a junior competition, also contributes players to the AFL in Australia. |
| Japan | Biggest competitive league in Asia. Lots of locals get involved and there are programs for kids. |
| Hong Kong | One main club which competes with others in Asia. An Auskick program for kids is available. |
| Singapore | One club for adults and one club for kids, competing with other clubs throughout Asia. |
How much Aussie rules football is played outside Australia
Some of the players make their way from these international competitions to play in Australia, particularly from Ireland, New Zealand and Papua New Guinea.
Below I've also looked at the International Cup and what that means. And I've included further below a bit of the history of Aussie rules footy in these areas, where these international competitions have contributed to the game back in Australia, and some of the details on the governing bodies.
Australian Football International Cup
The Australian Football International Cup is a competition played every 3 years between teams predominantly from outside Australia. It is played in Melbourne over a 2-4 week period during the winter AFL season.
Over 18 teams from 8 nations compete in the cup. This has grown from 11 when the competition first started in 2002. A woman's competition was added in 2018.
There are 3 teams that stand out above all others:
New Zealand
Papua New Guinea
Ireland
Every International Cup final has seen 2 of the teams from these countries compete for the title. Papua New Guinea have been the most dominant; they have played in every final and have been crowned as champions in the last two.
I've seen the women's competition dominated by Ireland and Canada, these teams compete in all the finals that have been so fare (Ireland one twice!).
UK and Europe
The AFL organises, via its AFL Europe arm, annual competitions, tours and celebrations of AFL in various countries around Europe, and in the UK.
I feel this is focused on expat Aussies living in these countries who also encourage locals to join in. It feels a bit different to the Irish game (see below) where it's a little more home-grown and integrated with the sport in Australia.
In the UK and Europe, the AFL encourages Aussie rules footy by the events it organises:
Fitzpatrick Cup, in Oxford, England
Champions League, in Amsterdam, Netherlands
ANZAC Cup, in Villers-Bretonneux, France
Euro Cup, in Stirling, Scotland
Ireland
Ireland gets a special place in this list separate to Europe; I reckon Ireland feels like a true home to the spirit of Aussie rules overseas.
Aussie rules football in Ireland is organised by the Australian Rules Football League Ireland (ARFLI), which has been governing the 6 league competition since 2001.
I found that while it's small, it really is a growing sport in its own right. The game's been around in Ireland since the 60's, though it really took off in 1999 when the ARFLI formed. We've got to get involved as a lot of great players have come out of Ireland.
Irish Players in Australia
The Melbourne Football Club, led by the legendary Ron Barrassi, undertook the "Irish Experiment" in the 80's – an ambitious recruiting drive in Ireland.
Barrassi believed that, after watching and playing against the Irish while touring with Australian teams, their skills in Gaelic Football would transfer perfectly to Aussie rules.
The selling point to get the Irish over to Aussie rules: Professionalism. The Irish game is an amateur sport, a pastime played for generations without pay. Australia has been the ultimate test for Irish athletes to come play professional sport.
Jim Stynes was the stand-out success from this Irish Experiment. From Dublin originally, Stynes won a scholarship in 1984 to come to Australia and try his luck with the Melbourne football club. He struggled a bit at first, it wasn't until 1987 that he would finally break into the Melbourne side. His stamina became the feature of his game. By 1990 he was one of the most prominent big men in the game. Stynes won the game's highest individual honour, the Brownlow Medal, in 1991 (after having played the game for only 7 years).
Stynes was a dominant player as I was growing up, having played a record breaking 244 consecutive games in the 90's. He also continued to win a bunch of awards, and even an Order of Australia for his charity work. It's a shame he's not with us anymore after passing away in 2012.
USA
Aussie rules football is a big deal in the States. They have a great history of players and competition, including some that have transferred over to the game in Australia such as Collingwood's Mason Cox originally a baseball player in Texas.
I found the biggest competitions to be run by the United States Australian Football League (USAFL) are:
Ausball, a beginner friendly version of the game with no tackling or contact
East AFL, a major competition for the eastern side of the States
Midwest AFL, a similar competition for the midwest
Ausball is more of a socially fun game played at nearly a dozen clubs around the US. It seems to be a great way to have fun wile learning Aussie rules in a less competitive environment. It also serves as a recruiting ground for getting players into the USAFL.
The East AFL and Midwest AFL competitions are more serious. Over 40 teams compete in a week-long national championship for both men and women.
While Australian Football participation and general awareness has increased rapidly, it is a sport that is fair from mainstream and at times still struggles for numbers, as such clubs don't require tryouts and welcome anyone to have a go. So, if you're in the US and are interested in trying a new sport, then check out the map in the link below and find your nearest club now!
https://playaussie.com/where-to-play-australian-rules-football
New Zealand
History – New Zealand have a long and interesting history when it comes to Australian Rules Football which was first played in the country in 1863, originally it was quite popular and played in front of large crowds, during the 1880's however the game would almost cease to exist in New Zealand. There were numerous attempts to revive the sport but it wasn't till 1974 that the first organised leagues were played.
Current Competitions – There are four major leagues in New Zealand, these are the Auckland Autsralian Football Leage, Canterbury Australian Football League, Waikato AFL and Wellington AFL. These four leagues then create representative teams to play in the weekend long national Championships.
Participation – 600 players play across the four competitions and like all countries other than Australia the sport is not professional and clubs welcome anyone to join and have a go at playing Australia's great game.
The game has also seen a boom in younger participants with the AFL setting up Kiwi-Kick, a program much like Auskick in Australia where youngsters get to learn and experience the game for the first time, as of 2020 the program has been highly successful with over 35,000 registered participants.
To get involved in either Kiwi-Kick or the 4 senior competitions check out the link below with registration details and information for your nearest club.
Papua New Guinea
History – Being Australia's closest geographical neighbor it is no surprise that Australian Football is the second most popular sport behind Rugby League in PNG. First introduced by Australian Defense Force Personal in the 1940's the game saw a boom and a gradual increase in popularity and participation all the way into the late 1970's, so much so that a PNG team participated in the Australian national under 17's competition. During the 1980's, sadly Australian Football took a back seat as Rugby Union and League were shown frequently on TV creating greater popularity for those sports and Australian Football was almost entirely forgotten.
Current Competition – In 2001 with support from the AFL, Australian Rules Football in PNG was re-structured, as the sport went through a massive spike in participation and support. Junior programs at almost every age level for both men's and women's, AFL programs and match replays on national television and better structured senior competitions began to put the sport at the forefront of sport lovers across PNG and young athletes. This matched with PNG born Mal Michael, who became a champion for the Brisbane Lions playing in 3 premierships cemented Australian Football as the second most popular sport behind Rugby Union.
This has resulted in somewhat of a golden age for PNG football with a highly successful National Team.
Asia
Wherever Aussie expats end up, Aussie rules football seems to follow. I've included here some of the larger footy clubs in Asia if you're keen to get involved.
Japan
Japan seems to have the biggest Aussie rules football competition in Asia. Local leagues consisting of over 500 players compete every year. Details of clubs and competition are in Japanese, and matches appear to be well attended.
Hong Kong
The Hong Kong Dragons are the local footy team in Hong Kong. They play in a few competitions around Asia and train at the Hong Kong Football Club or Hong Kong University. There is also a Junior Auskick program in Hong Kong.
Singapore
The Singapore Wombats are the team that play internationally representing Aussie rules players from Singapore. There is also the Singapore Sharks, a team for children that runs the local Auskick program out of the Australian International School on Lorong Chuan.
Thailand
Thailand Tigers club based in Bangkok offers an opportunity for kids and adults to compete playing Aussie rules football.
Bottom Line
While Australian football can be described as a niche sport, predominately played in Australia, there are a number of countries worldwide who are interested in developing the sport. From expat Aussies living overseas to locals discovering our weird and wonderful game, Australian Football is an ever-increasing sport across the globe. When you consider the growth in a lot of countries over the last 50 years, it's not hard to imagine a more international brand over the next century as Australian Football attempts to become a world game, competing with Rugby Union, Association Football (soccer) and Cricket as a global super power.
References
I even looked at a couple of off-line resources in making sure I had the history right for this article:
Murray, John (2008). Melbourne F.C. Since 1858: An Illustrated History. Docklands, Victoria: Geoff Slattery Publishing. p. 71
29/46th infantry battalion and 37/52nd infantry battalion played at Deslandes sports oval in front of a sizeable crowd of natives. Source 074980 Australian War Memorial