I've recently developed an interest in club memberships for footy and cricket. I was always interested in joining a members club, but was never sure on the requirements, and talk of extensive wait times put me off. After a bit of recent digging I found out that clubs such as the SCG can be worth it, even with the long wait time. I put this guide together to help anyone in a similar situation get started with joining the SCG.
In summary, joining the SCG is a matter of the following simple steps:
Sign up online and pay the $50 application fee
Wait roughly 10 years
Receive an offer of membership
There are no other pre-requisites or requirements to be complied with when applying for membership.
The typical costs involved with becoming an SCG member range from roughly $1,800 to $2,000 depending on how long the waitlist is. This estimate is based on a wait list of 9-12 years.
The waitlist can be skipped by purchasing gold membership for $11,000. Gold members receive other additional benefits such as access to matches at Allianz stadium and carparking.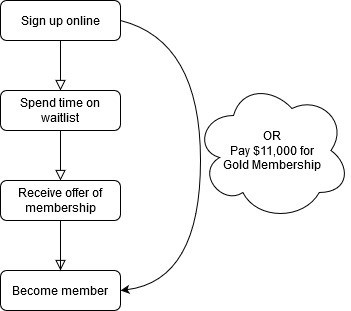 A platinum membership is also available for $40,000. As far as I can tell, platinum is offered as a 'step-up' for gold members – I couldn't find any way to sign up directly for platinum. Platinum benefits include transferable membership cards.
In this guide below I've included further details on the steps to follow in signing up for SCG membership, a breakdown of all the costs involved, and more information about the benefits of gold and platinum membership.
Step 1: Sign up online
Application for SCG membership starts by filling out the online form. Details required include the applicants name, address, and other contact information.
A fee of $50 is charged to join the waitlist. A credit card processing fee is also applicable if paying by credit card.
There are no other requirements to sign up to be on the SCG membership waiting list. It is not necessary to have existing members sponsor an application; there are no other obligations to join the waiting list.
Signing up for gold membership can also start online, though at the moment it seems that the online contact form simply sends them an email. Due to the amount of money involved, I'd say the club will reach out to anyone who expresses interest in becoming a gold member.
Step 2: Spend time on the waitlist
The length of the waiting list, and time spent on it, is variable. I found that at the moment it seems be roughly 11 years.
A fee of $30 is charged annually to maintain a position on the waiting list. There are some perks available to people currently on the waitlist, I've included more detail below.
There is currently no waitlist for gold membership. If purchasing gold membership, there is no waitlist applicable and the SCG will confirm gold membership in a matter of days. I couldn't find any other way to skip or accelerate the waiting list.
Waiting list perks
Access to the Members Reserve, for two matches each year, is available to applicants who are currently on the waitlist. Which matches are eligible for this perk seem to be at the discretion of the SCG. Details of eligible matches will be sent by email.
News and information about history and development of the SCG trust and its properties is also available to waitlist applicants. I find though that this isn't worth much on its own (the real perk of the waitlist is the aforementioned Reserve access).
Step 3: Receive an offer of membership
After some years on the SCG members waitlist, an offer will be made to become a member.
An entrance fee of $1,500 is payable in accepting the offer of membership. Once accepted, the SCG will confirm membership and issue the applicable cards.
The membership card is used to enter the Members Reserve area, and the club cards and guest cards can be used to bring people with you. Different rules apply to the club and guest cards.
Gold and platinum members get different cards, and different rules that accompany those cards. I've explored these details further below.
List of Fees
The total cost of becoming an SCG member is roughly $1,820 to $1,910 depending on how long the waitlist is. This is based on the fees I found and an estimate of 9-12 years spent on the waitlist. Alternatively, purchasing gold membership for $11,000 bypasses the waitlist.
A complete list of all the fees I found associated with SCG membership is below. Not all fees are required to join the SCG – for example, if gold membership is purchased, there is no application fee or waitlist fee.
| Fee | How much |
| --- | --- |
| Membership application fee | $50 |
| Waitlist annual fee | $30 per year |
| Entry fee | $1,500 |
| Membership annual fee | $670 per year |
| Gold Membership joining fee | $11,000 |
| Platinum Membership joining fee | $40,000 |
| Booking fee to reserve a members seat (optional) | $25 + booking fee |
List of fees for SCG membership
I couldn't tell if the entry fee is applicable for gold and platinum members. I also couldn't find if a different annual fee applies to gold and platinum members.
There are also credit card fees applicable if paying by credit card.
Eligibility Requirements
The only eligibility requirement seems to be the right amount of time and money. Membership seems to be available for anyone willing to pay the applicable fees and wait the appropriate amount of time.
I couldn't find any other way to skip the waiting list, other than paying for gold membership. As far as I can tell, there are no friends or favours that can help you move up the waiting list faster.
Differences between SCG Membership Categories
The main differences between SCG membership, gold membership, and platinum membership include the ability to skip the waitlist and to use facilities at nearby Allianz Stadium.
I've included a table summarising these benefits, further details are included below this.
| | SCG Member | Gold | Platinum |
| --- | --- | --- | --- |
| Access to the Members Reserve | ✔ | ✔ | ✔ |
| Skip the waitlist | | ✔ | ✔ |
| Allianz Stadium matches | | ✔ | ✔ |
| Allianz Stadium club facilities | | ✔ | ✔ |
| Parking available | | ✔ | ✔ |
| Transferable Cards | | | ✔ |
Comparison of benefits between SCG membership, gold membership, and platinum membership.
SCG Member Benefits
The main benefit of SCG membership is the freedom to attend all scheduled sporting fixtures at the SCG with seats available in the Members Reserve. It is not necessary to pay an additional fee to attend a match.
Perks of the Members Reserve include:
Full strength beer and different (arguable better) food options
A chance to meet the players after the match
Members lunches
Reciprocal rights at Old Trafford and Lords
Gold Member Benefits
Gold members receive all benefits of regular membership of the SCG, including access to the Members Reserve, the chance to meet players, and reciprocal rights at other fields. In addition, gold members also receive the following benefits:
No waitlist
Parking
Access to Allianz Stadium sporting events
Access to the Stadium Club (at Allianz Stadium), including gym, restaurant, pool, spa, sauna, tennis and squash
Gold membership is available to anyone who pays the gold membership fee, currently $11,000. I cannot find any other requirements to attain gold membership, and as far as I can tell there is no way to obtain a discount or waiver of the fee.
Platinum Member Benefits
Platinum members receive all the benefits of gold membership, including the benefits of regular SCG membership.
The additional benefit of platinum membership is that the membership includes 4 fully transferable membership cards that can be used by any individual. I believe platinum memberships can also be bequeathed indefinitely to family members.
I cannot find out how to become a platinum member. All I could find is that apparently costs start at $40,000. It seems to me that gold membership is a pre-requisite of platinum, though I couldn't confirm that. As the gold membership sign-up process involves speaking directly to the club, that would be the opportunity to enquire about platinum membership.
Bottom Line
What I liked about the SCG membership application:
Waiting list not too long (when compared with similar clubs)
Real benefits while waiting on the list
Total cost of achieving membership not too expensive
Option available to skip the waitlist
What I didn't like:
Annual fees for the waitlist (though I feel this is outweighed by the benefits waitlisters receive)
Option available to skip the waitlist
I'm in two minds about the gold memberships skipping the waitlist. On one, it's a great option for people who didn't have parents that signed them up as children. On the other, I feel it can create tiers of potential elitism amongst the members. Perhaps one day I'll find out for myself.
References
I used a few sources of information to make sure I used all the correct details in putting together this guide. If you're interested where I got my information from, check out the links below:
Chris used to live near Moore Park and the Entertainment Quarter. He wasn't in Sydney long enough to complete the SCG membership process.